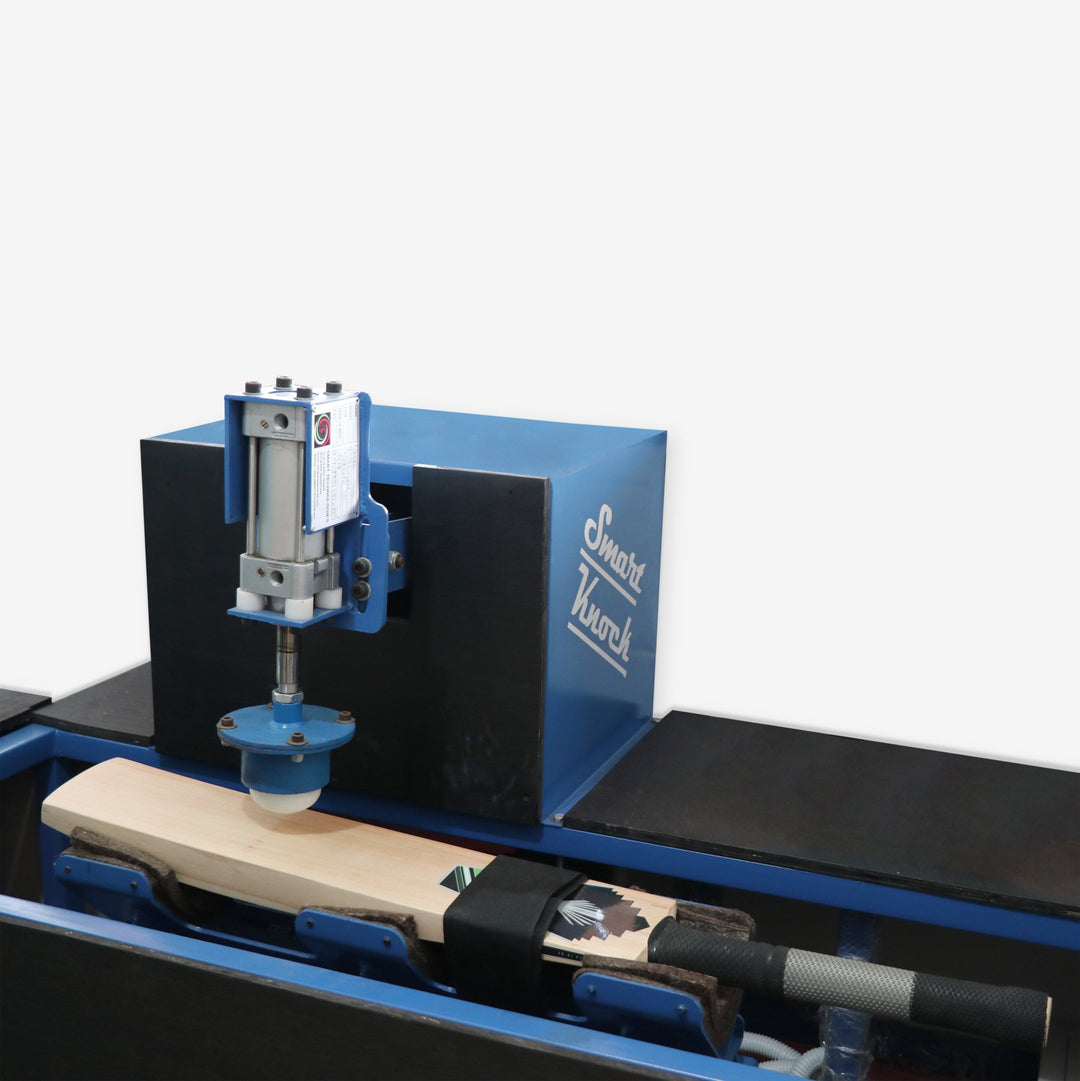 Knocking In
Regular price
$55.00 NZD
/
Tax included.
Shipping
calculated at checkout.
---
International orders are shipped delivery duties unpaid (DDU)
Afterpay available in-store & online
Give your new cricket bat the best start to life with a Fantail knocking in service. We offer a comprehensive knocking in service, combining hand knocking with our state of the art Smart Knocking in Machine.

This process prepares your bat for hardball use. You won't notice a significant difference in performance after the service is completed. However, the service will compress the fibres to maximise the performance within the bat. Bat performance comes from the quality of willow, shape, weight and pressing done by the bat manufacturer.
PROCESS:
We apply a coat of linseed oil. Linseed oil helps the cricket bat retain its own moisture and reduces the cracking rate due to allowing the fibres to stretch rather than crack.
The knocking process starts with the edges and toe of the bat we do this by hand using a wooden mallet as these are the weakest and most vulnerable areas of the bat.
It then moves on to our Smart Knock knocking in machine. Which does all that a human can do but better as it has complete control of each strike with placement and power. It works its way slowly up and down the blade while moving across the blade simultaneously. Your bat will receive approximately 15,000 knocks during our service. 
Once the knocking is complete, we then move on to applying any optional extras you've ordered.

Before using your new bat for match play, we recommend using the bat for light net sessions with an old cricket ball to assess if it is ready. Start with a slow pace and slowly build up. Should small seam indentations appear, slow the pace down and only increase the pace when you can see no new seam indentations. Continue this process until you are using a new ball at full pace. 

 
PLEASE NOTE:
There is no warranty on non Fantail branded bats that we have knocked in.

All facings/edge tape and glue residue will need to be removed before our knocking in period starts.

You will need to purchase a new facing if you'd like one to be applied once the knocking in the process is complete, as we can't reuse facings.

Our knocking in machine covers 36cm up from the toe. If your stickers finish lower than that, you may notice knocking marks.

It's not uncommon for bats to develop small surface cracks during our knocking in process. We will seal and fix the cracks for no additional charge if they do occur.

It's common for toe guards to come off during our knocking in service. As the willow compresses, toe guards don't compress with the willow, making them pop off.
PLEASE FOLLOW THESE STEPS: 
Place your order online or pop in-store for the services and repairs you require (please get in touch if you need any assistance). If you are based outside of NZ, please get a shipping quote before placing your order. 

Please don't send your bat/s in unless you've placed an order.

Send your bat into our workshop from anywhere around the world (Fantail doesn't organise or pay for this) with your order number and name attached. This is vital to connect your bat/s with your order. 

Please don't send your bat cover; it may not be returned.

 Your bat will join the queue as soon as it arrives. You won't be notified when your bat arrives.

Once complete, your bat/s will be couriered to the address given in your order details (the return shipping is calculated and paid for in the checkout of our website). You will be sent an email with the tracking details upon dispatch, or we will let you know that it is ready for pick up. 
PLEASE NOTE: If you are an international customer, please get a quote to send your bat/s to NZ before placing an order. If you place an order and change your mind. You'll only receive a refund of the order value minus the transaction fee (between 3 & 7% of the order value).
Send or drop your bat/s off to the following address:

Fantail
84C Elizabeth Knox Place
St Johns, Auckland 1072
New Zealand
CURRENT TIMEFRAMES
We can have 60+ open orders at any given time, and as we work on a first-come, first-served basis, it's not possible to provide you with a time or day, so please don't call the store.
We can, however, provide you with our current timelines 
VIEW HERE
If you are concerned that your order has been completed but haven't been notified, click on the order status button in your email receipt.
To get a shipping quote add your the items you would like to purchase to your cart and proceed to the checkout. Our system will calculate the best shipping rates available based on your delivery address
Please be aware that all international orders are shipped delivery duties unpaid (DDU) and that you, the customer, are responsible for any local customs fees, taxes, and/or duties. Any import duties and taxes are charged once the package has reached the destination country and these charges must be paid by the recipient of the package. Unfortunately, we have no control over these charges as customs policies vary from country to country. If you have questions related to customs charges you are advised to contact your local customs office.
New Zealand - orders are sent through Post Haste. Allow 1 to 5 business days for delivery.

Australia -  Orders are sent through two carriers. For DHL Express, allow 1 to 4 business days for delivery, and NZ Courier Post allow 5 to 14 business days.

Rest of World - Orders are sent through DHL Express. Allow 3 to 8 business days for delivery.